Begin by preparing the lemon cakes. This is a big recipe as you are making 4 full layers.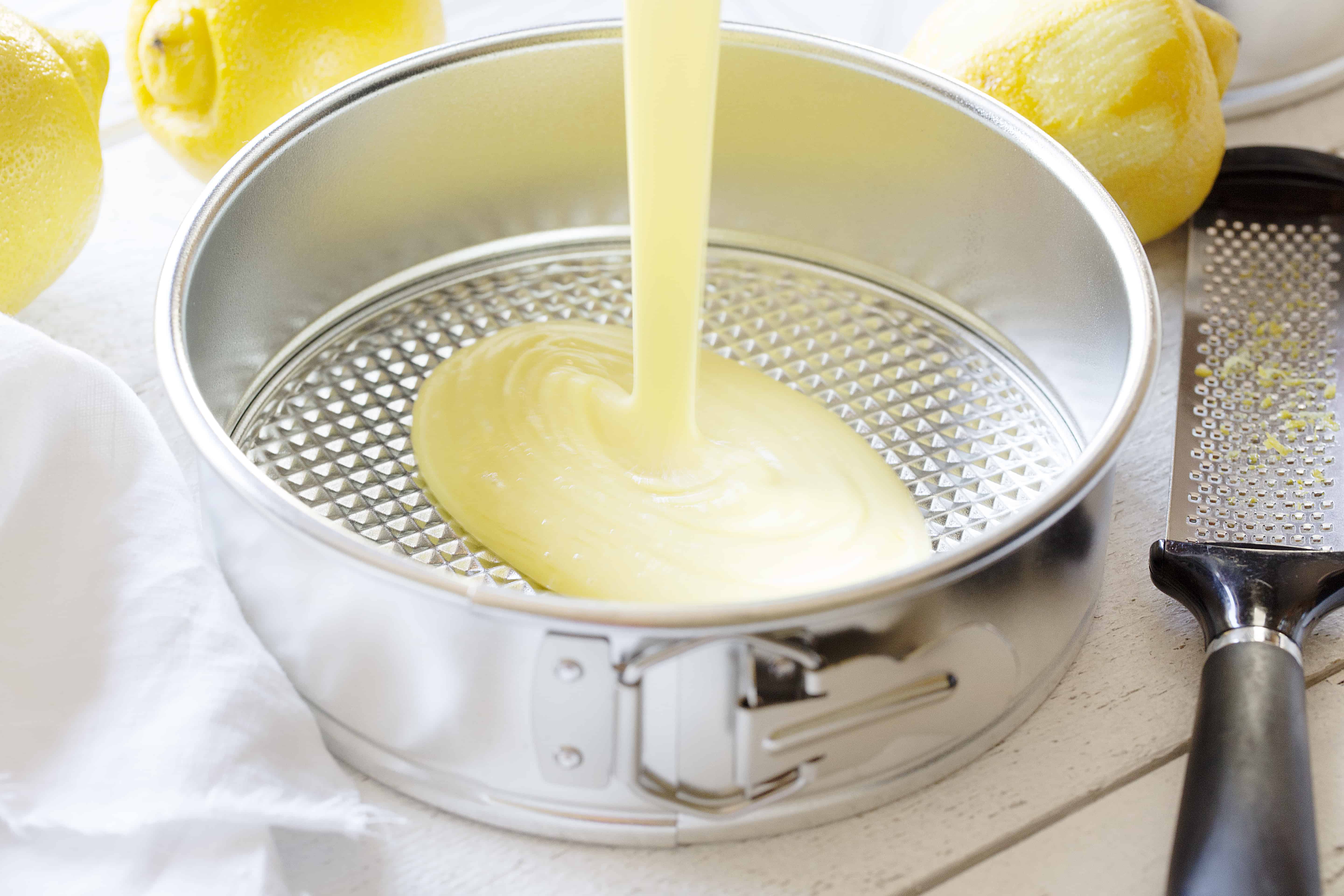 Fill each pan about a 1/3 way full and no more than 1/2 way full.
Bake according to recipe instructions, seen below.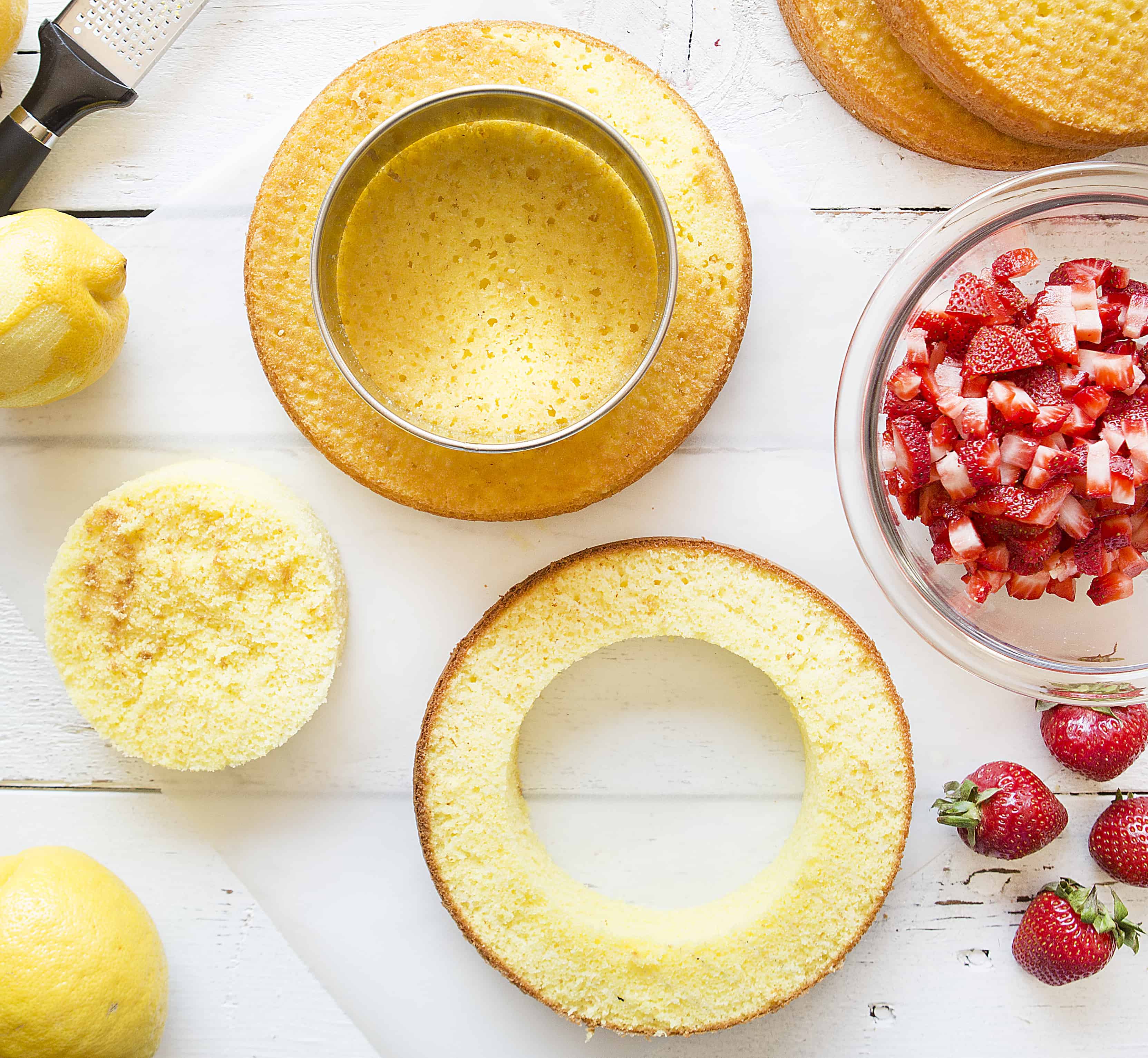 Once cakes have baked and cooled, level each cake to the same height.
Using your round cookie cutter, remove the center portion on two cake layers. This will hold our strawberries once the cake is assembled. (and feel free to make a trifle with the cutout sections!) You can also use a small side plate as a guideline for removing the sections of cake; just center it on the cake and then use a sharp knife to cut around.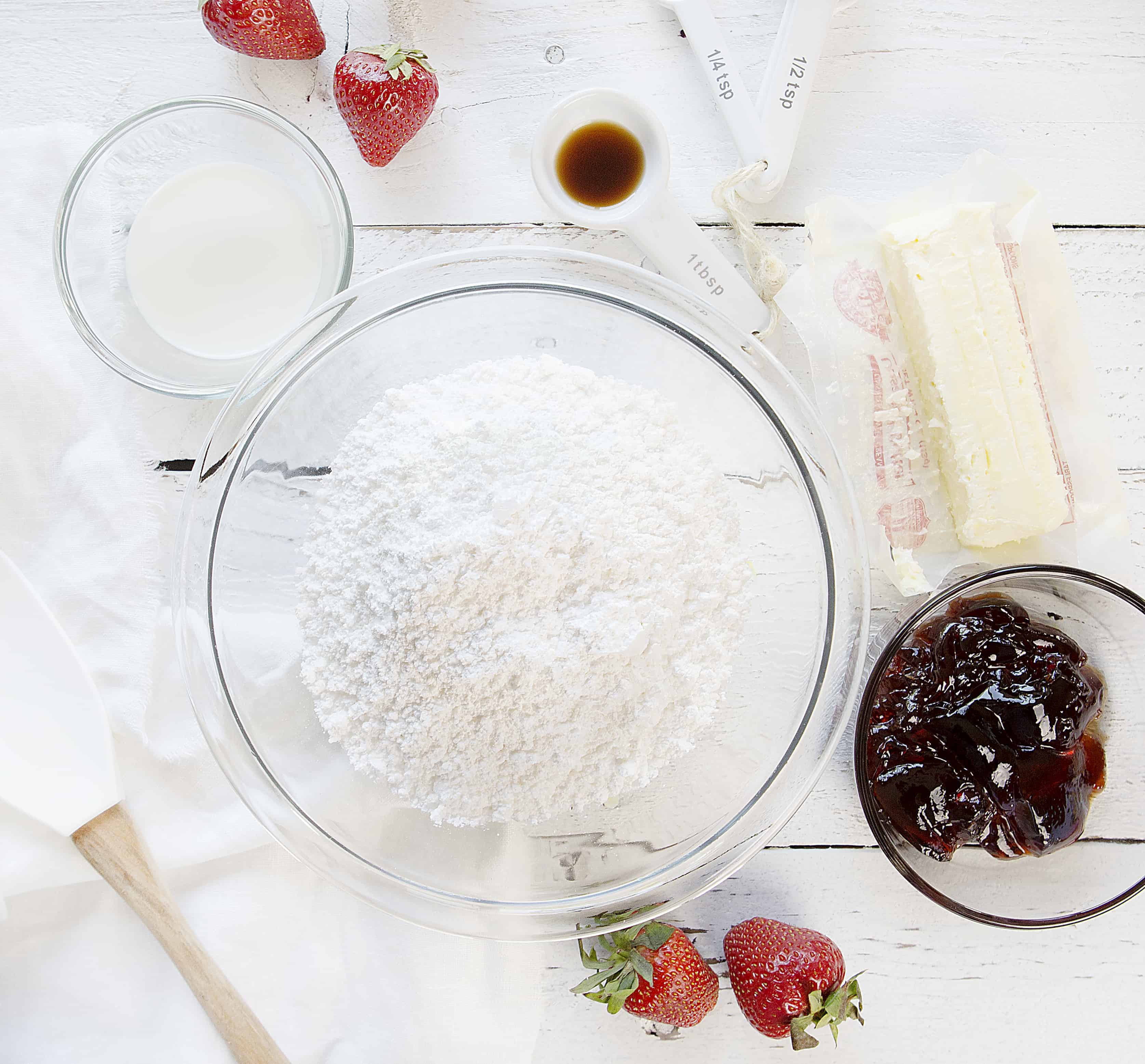 How to Make Strawberry Buttercream
Strawberries go for about $5 a container at my local grocery store and lemons are $1 each!  Because I didn't win the lottery recently,  I splurged and got just one lemon and opted to use this great recipe for easy strawberry buttercream. Hoping strawberries go on sale soon!
As I mentioned, I compromised and made a recipe utilizing strawberry jam instead of fresh.  This worked beautifully!  I was able to get the sweet hint of strawberries and not break the bank.
To Make This Strawberry Buttercream You Will Need:
butter
vanilla
strawberry jam
confectioners sugar
milk
Mix the ingredients together in s a stand mixer (follow the recipe for specifics) and then let it whip on high for at least 2 minutes. This is where you get the beautifully light and aerated frosting that is easily spread on a cake. Be sure to taste test as you go. If you want more strawberry flavor you can add in a little strawberry extract!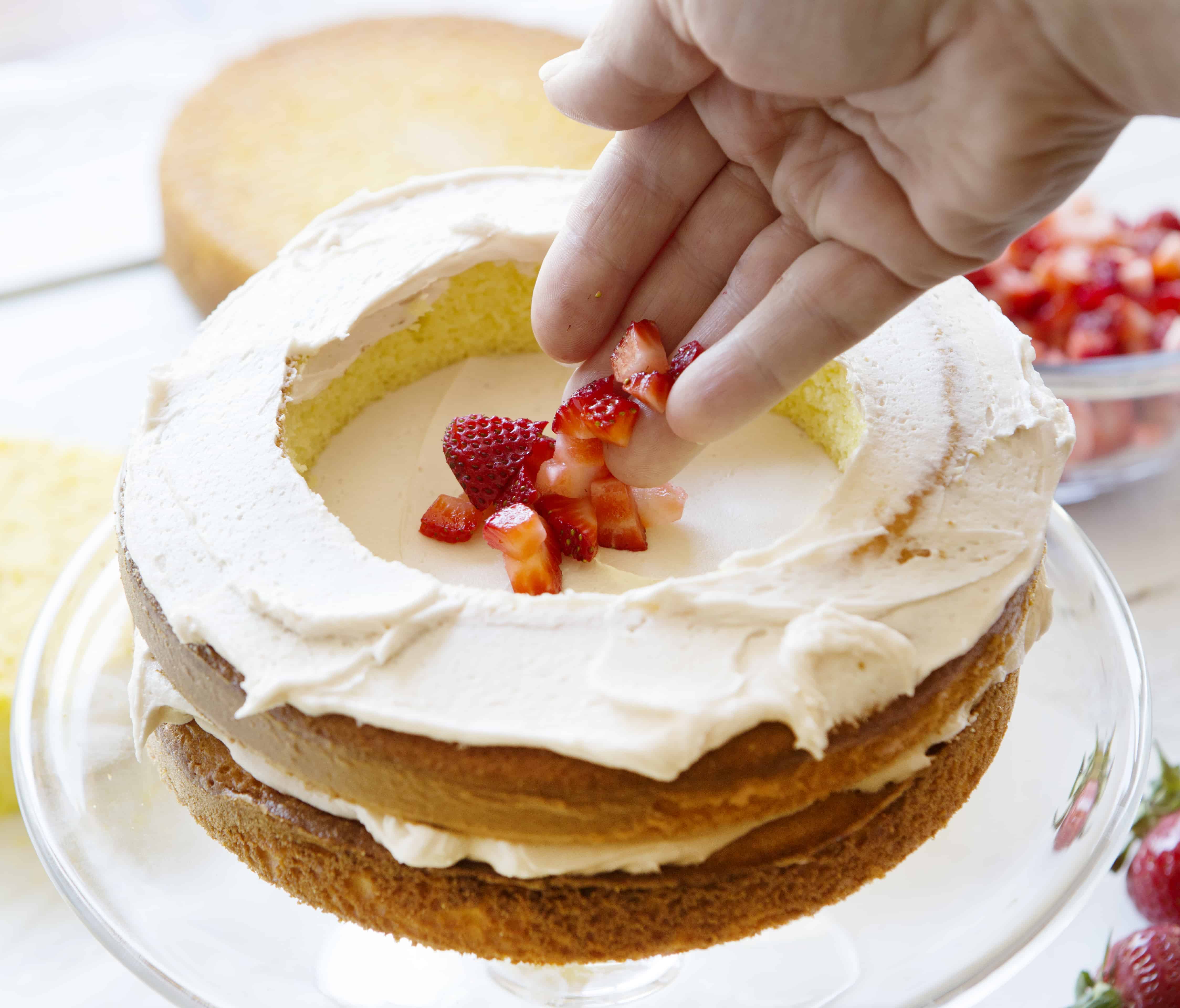 Begin by placing a whole layer on your cake stand and covering with about 1/3 cup strawberry buttercream. The next layer is a cutout section. Be sure to spread the strawberry buttercream around the edges of each layer.
Add the next cutout layer then fill with chopped strawberries. (or you can add chopped strawberries as you go). Place the final full layer on top.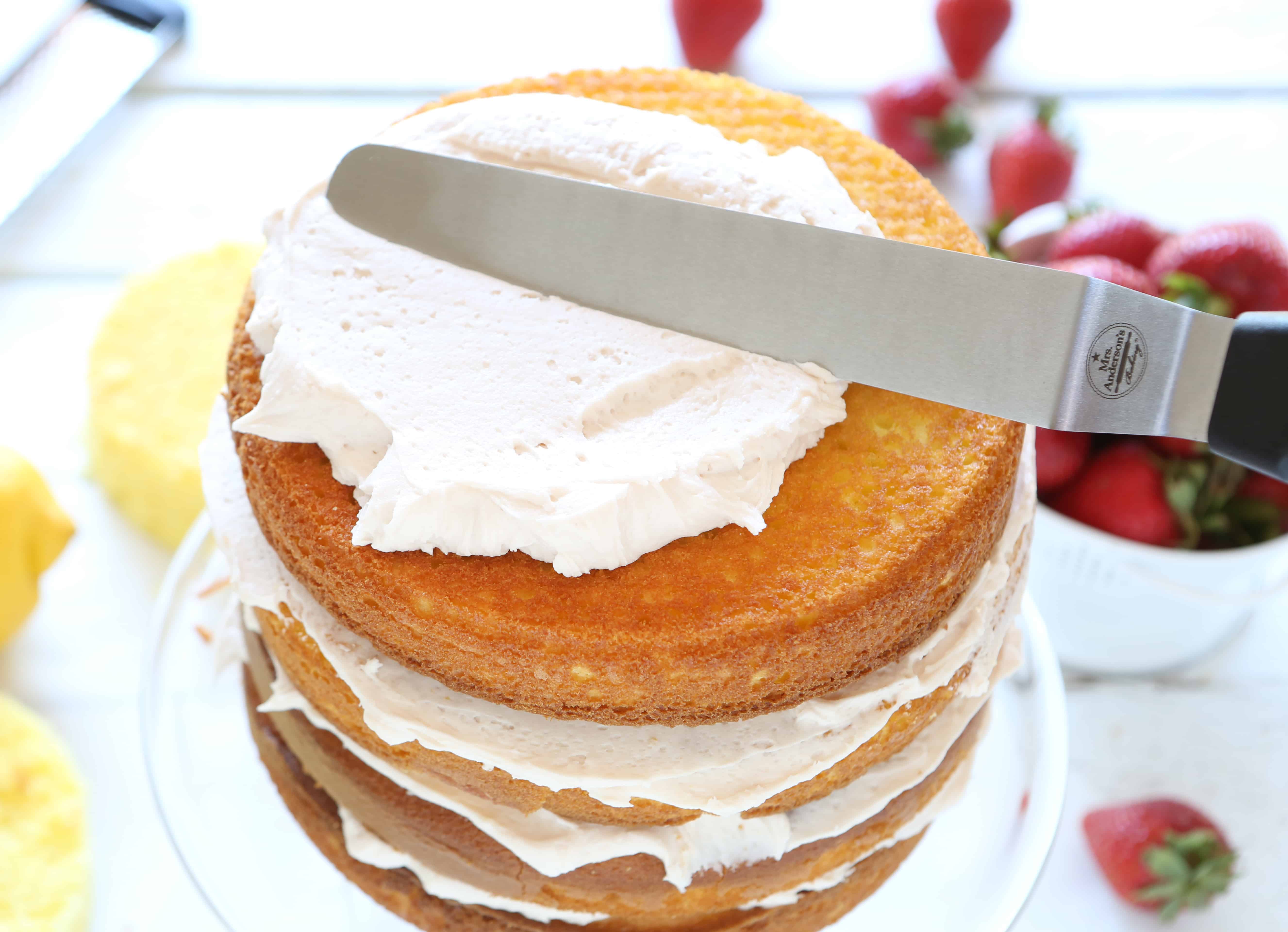 Cover cake with remaining strawberry buttercream. To create the rustic design, simply use your offset spatula to make "C's" in the frosting. It's also called "swoops" through the frosting.
Cover top of the cake with strawberries and chill until ready to serve. (Up to 48 hours refrigerated)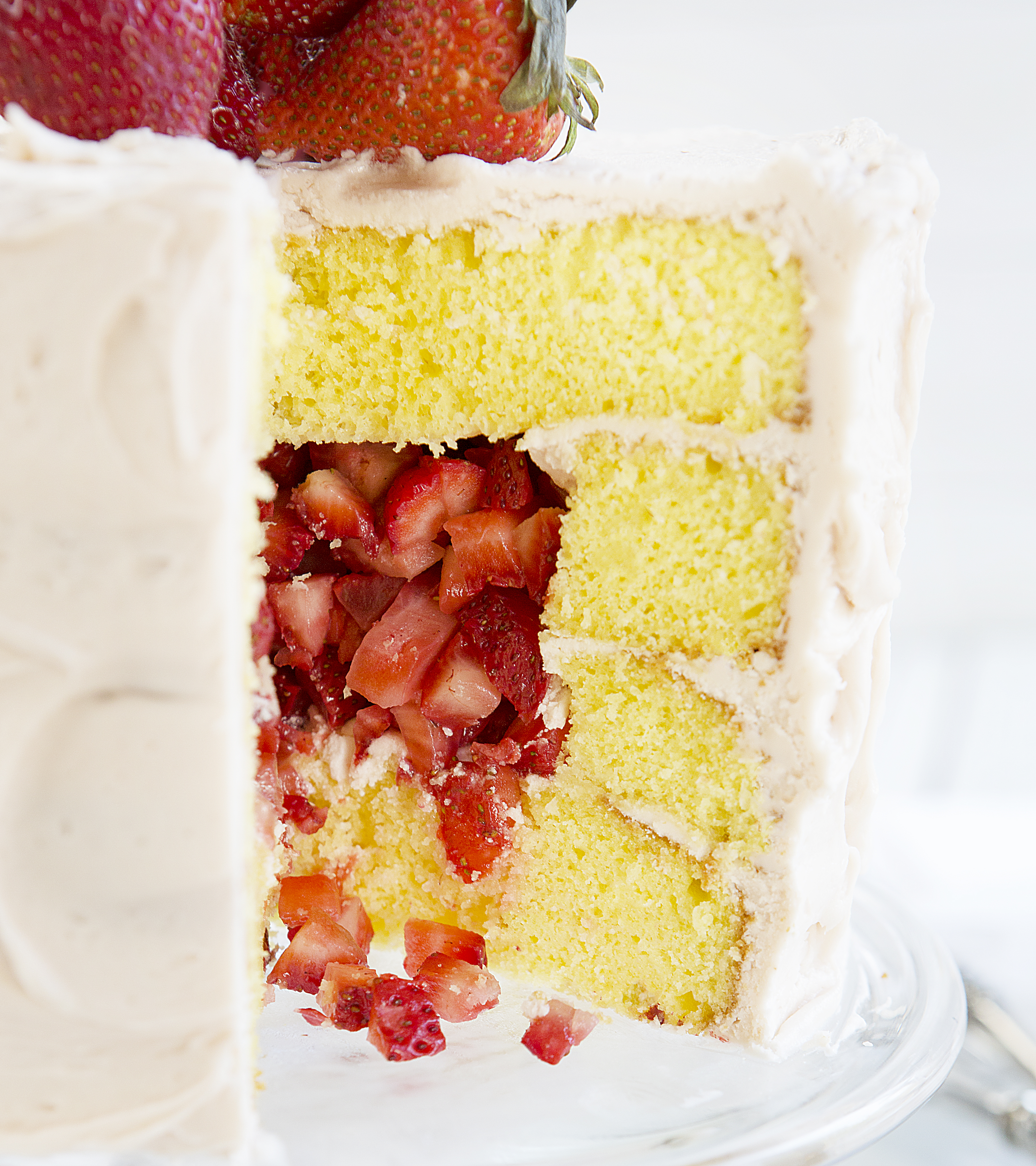 Cut cake as you normally would, but be prepared for oohs and aahs! I usually keep a spoon nearby and scoop up any strawberry bits that might fall out. That way everyone can get enough strawberries for every bite!
Quick & Easy Version
If you happen to want to make this cake even EASIER, use this recipe for Lemon Surprise Cake. It's just a few simple ingredients! Your layers will be thinner and the bake time is 12-18, but it will taste just as amazing!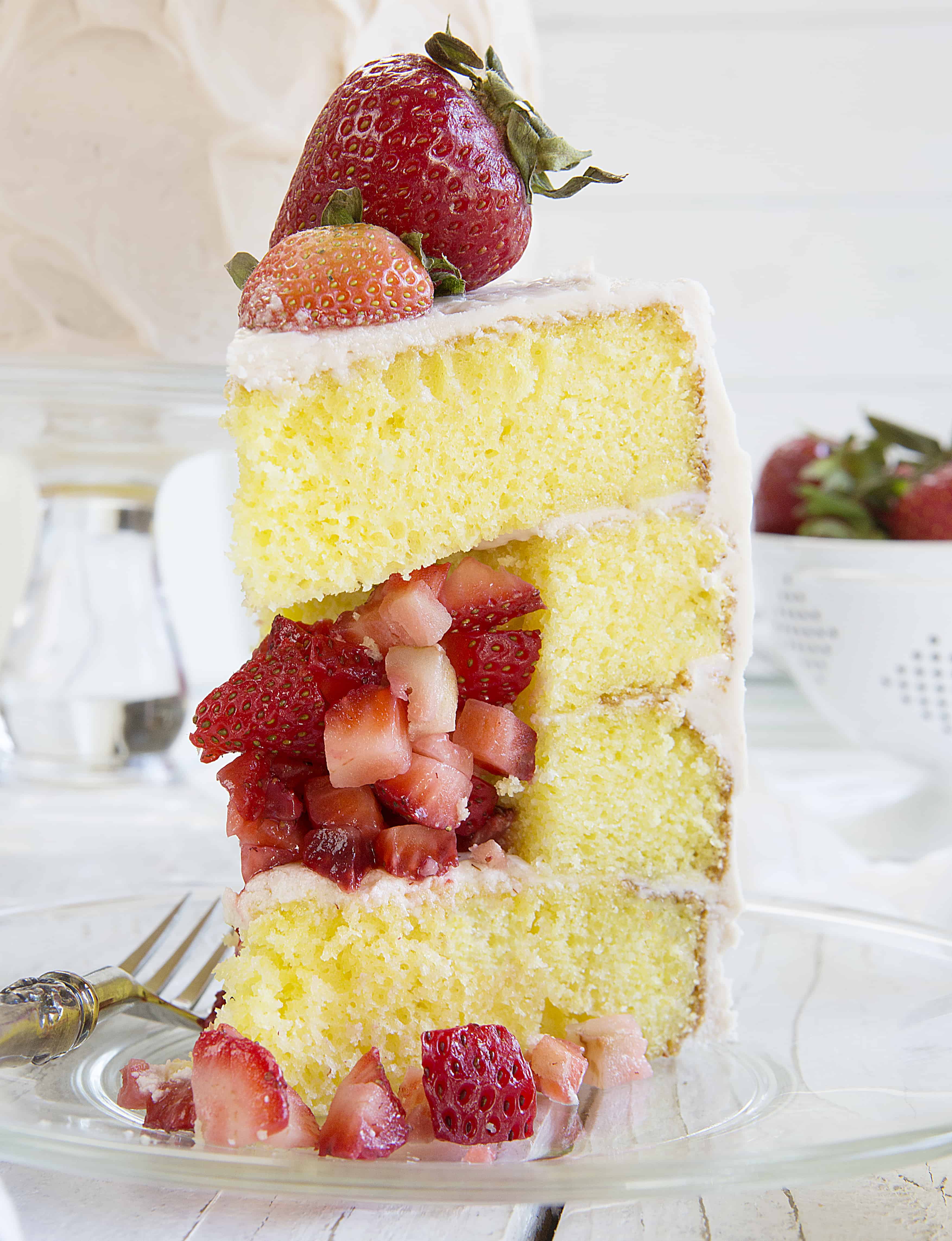 Love Lemon? Check Out These Great Lemon Recipes!